Wilson Tucker: Ice and Iron.
Småtrevlig sf från 1974 där klimatförändringar lett till att Kanada och norra USA täckts av is. Handlingen är omväxlande hos vetenskapsmän vid isgränsen och i en annan, primitiv tid som visar sig istället vara framtid. På isen dimper det ner lerstenar, fiskar och till och med människor, i värsta Charles Fort-stil (som det mycket riktigt refereras till). I den primitiva tiden dyker ett gäng militanta kvinnor upp från ytterligare en annan tid, och de har en avancerad strålpistol med sig. Det blir lite rörigt och konflikter och relationsdraman på forskningsstationen gör det inte mindre komplicerat.
Rhuddem Gwelin: Rumbling Echoes of the Elusive Seeds of Time.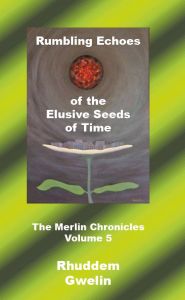 Det här är den värdiga avslutningen på en pentalogi om världens (nåja, Englands) utveckling under 2000 år, eller i alla fall vilken roll Merlin spelat. Den här gången är vi i London 500 år efter Cheesyfee-delen, och paret Merlin och Branwen hyllas som gudar för sin miljöinsats som tyvärr inte var tillräcklig för att förhindra översvämningar och hårda slag mot civilisationen. En annan religion har uppstått ur de tre Abrahamitiska religionerna, och dessutom finns ett centrum för magi och vetenskap som båda fungerar hyfsat. Naturligtvis blir det konflikter mellan dess tre maktcentra. Liksom i de tidigare delarna vaknar Merlin upp och ska rädda en person och därigenom förhindra en katastrof, och också denna gång är det förvånande vilken person det gäller. Vi känner också igen att Merlin ser gamla bekanta i de väsentligaste personerna han möter. Det ger säkert en extra dimension till personerna om man har de andra delarna i färskt minne, men de är ändå tillräckligt vältecknade för att vara intressanta. Handlingen är mindre våldsam än speciellt den del som handlar om korsriddarna, och avslutas elegant. Hela pentalogin är kritisk mot religion så i slutändan undrar man, hur kommer det sig att Merlin kallas att ingripa? Är det druidernas vatten- och luftgudar som styr?
Jonna Gisselbæk Svendsen: Brugt.
En engagerande kort nyskriven roman på danska som handlar om kvinnorna i en second hand-butik och hur de hjälper och samtalar med varandra. En av de anställda är en missbrukande prostituerad som tas om hand av huvudpersonen Bitten som tidigt förlorat en dotter. I gengäld får Bitten hjälp att komma till rätta med sitt eget liv. Både miljön i Köpenhamn och på landet i den lilla sommarstugan är väl beskrivna men det är de olika kvinnorna och deras relationer som är det väsentliga i boken. Några män förekommer men vare sig de är våldsamma eller vänliga är de bifigurer också när de är hallick, brudgum, äkta man eller gammal förälskelse.